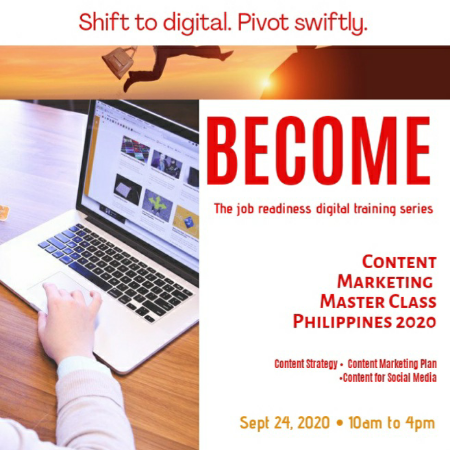 Content is always King.
Gather your marketing team and join the CONTENT MARKETING MASTER CLASS: How to Become a Content Marketing Specialist to be held on September 24, 2020 from 10am to 4pm online.
This 5 hour course will equip you with the necessary tools to be ready to take on the role of content marketing specialist
Regular rate: ONLY P3,800 until August 28, 2020 (instead of P8,000) BUY 3 GET 1 FREE!
Marketing teams are encouraged to attend.
Expected attendees: Marketing specialists, brand officers, marketing communication executives, advertising officers, sales personnel, BPO Sourcing, Recruitment and Marketing Officers, real estate, financial advisors, Academe, Students near grad or fresh grads.
Course Coverage:
Content Strategy (2hr)
Effective Content Marketing Plan (1.5 hr)
Content for Social Media (1.5 hr)
At the end of the course, participants are expected to be able to have had a concise understanding of the concepts and tools of content marketing. Also, by the end of the course, participants are expected to be able to formulate their own content marketing plan.
Course Fees : (REDUCED PRICES FOR QUARANTINE PERIOD) USUAL RATE IS AT P8 000.
Promo Regular reg rate until Aug 28: P3,800
Standard: Aug 29 to Sept 18: P4,500
Buy 3 get 1 free
Buy 8 get 3 free
Inclusive of certificate and pdf kit after event.
Enroll in our other hot courses:
SOCIAL MEDIA FOR REAL ESTATE: SEPT 25, 2020, 10 AM TO 5PM
DIGITAL MARKETING FOR HEALTHCARE MASTER CLASS OCT 7 AND 8, 2020, 1 TO 4PM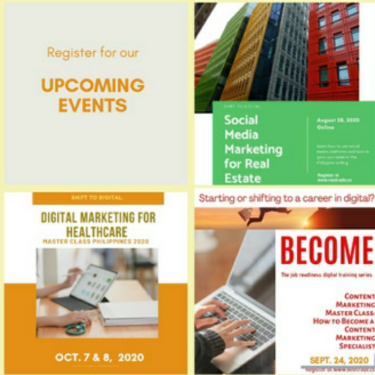 Enroll now. Email us at neotradelearning@gmail.com for registration inquiries.
Www.neotrade.co
Facebook: @dmtrainingphil
Call 09167312040, 09229207719
Share this event on Facebook and Twitter.